Loading Dock was formed by playwright/director Leegrid Stevens and actor Erin Treadway. The company is based in Brooklyn where we rehearse and build shows. The primary focus of Loading Dock is to create original plays that explore the extremes in human behavior. We produce emotional, character driven plays with an experimental edge.
I'm totally honored to serve as a resident producer for the company producing their eye-popping productions and directing their Forklift Development program.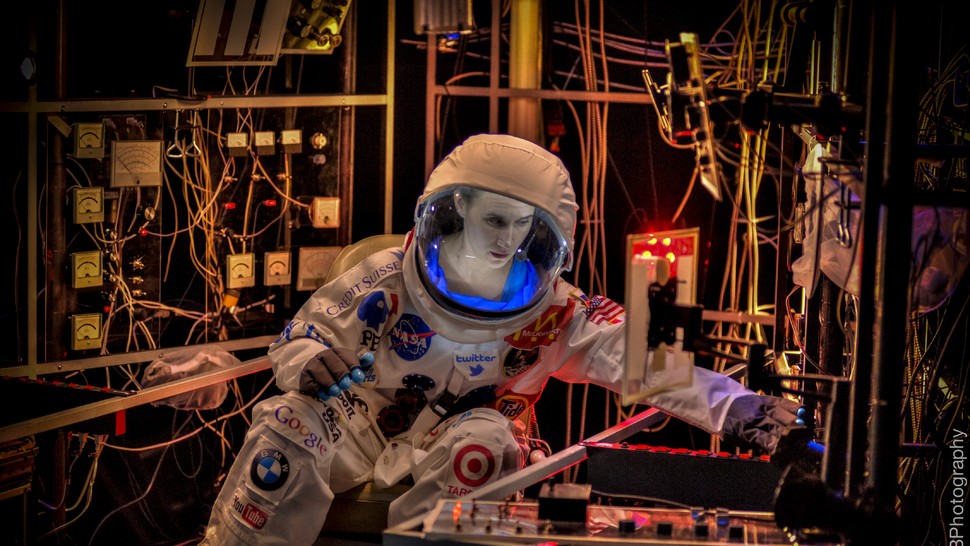 writer/LEEGRID STEVENS
director/JACOB TITUS
actor/ERIN TREADWAY
puppeteer/SHAWN DAVIS
set design/CAROLYN MRAZ
props design/RYAN COURTNEY
lighting design/SIMON CLEVELAND
costume design/HEATHER CAREY
movement director/JONATHAN TAYLOR
stage manager/EMILY VENEZIA
producers/CHARLES QUITTNER, LIANNE KENNEDY, SARAH GEORGE
voice talent/LYNNE MCCOLLOUGH, ERIC SLATER, ANDRES MUNAR, RYAN POINTER, JEFF AUER, REGAN ADAIR, YOSHI AMAO, SAORI GODA, REGAN GLOVER, KAISON LOUIE & AMIRA ANTHONY
All performances at THE WILD PROJECT, 195 E 3rd Street, NYC
In SPACEMAN, the difficulties of interplanetary space travel are brought to life in exacting detail. Radiation exposure, long term weightlessness, low light, extensive communication delays and poor hygiene are just a few of the challenges astronaut Molly Jennis must face as the first to Mars. But she soon finds nothing compares to the psychological effects of having so much time alone. Time spent mulling over the decisions she has made and what might be waiting for her when she finally reaches her destination.
Spaceman recieved two Drama Desk Nominations!
Outstanding Lighting Design for a Play
Outstanding Solo Performance
The Dudleys! A Family Game
By Leegrid Stevens
Directed by Jacob Titus & Leegrid Stevens
In The Dudleys!, family memories are brought to life as a malfunctioning 8-bit video game. The Dudleys dodge ghosts, undying zombies and evil Aunts side-scrolling through the neighborhood as they try to win a game that might not be for winning. Featuring original chiptune music and life size 8-bit video animation, The Dudleys! is a story of family, regret, and the games we play to get by. Press start. Play the Dudleys.
Credits
Created by Leegrid Stevens
Directed by Jacob Titus and Leegrid Stevens
Choreographed by Melinda Rebman

Video Design by Reid Farrington
Lighting Design by Simon Cleveland
Set Design by Jonathan Cottle
Costume Design by Heather Carey
Sound Design by Dana Haynes
Prop Design by Justin Cox
Video Programming by John Erickson
Press Relations by Toro Communications

Chiptune Music composed by Leegrid Stevens

Cast includes Amy Bizjak*, Joe Burby*, Roger Casey*, Kevin Delano, Ariel Estrada*, Marlowe Holden, Erik Kochenberger, Lynnsey Ooten*, Karsten Otto, Scott Thomas* and Erin Treadway
Forklift is Loading Dock's in-house new play development program. Our first season featured swell new plays by Noah Mease, Charlie O'Leary, Thicket & Thistle, Daaimah Mubashshir, Asia Gagnon, Sam Schanwald, Troy Deutsch, Ry Szylong, Andrew Kramer